How to control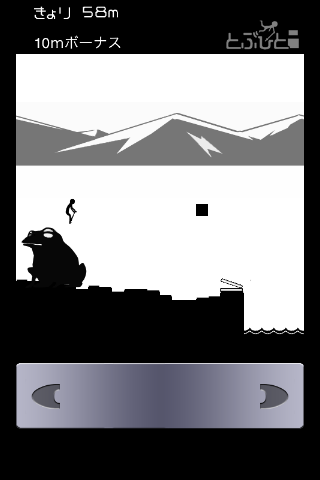 - About "Tobuhito i"
It is a simple game! You just operate a person by jumping, and aim to
advance the farthest.
By pressing ←→ keys at the bottom of the screen, you can adjust landing
spots, and avoid obstacles.
- How to control a person
← (the left key)
Advancing speed slows down. Use this key as necessary.
While the ← key is pressed, you can jump higher (three times higher at
the maximum).
Use three jump levels as necessary - "Jump" → "Big Jump" → "The Biggest
Jump"
→ (the right key)
Accelerate in the advancing direction. By pressing the → key, you can
move ahead faster.
- How to operate the score screen
RETRY Button
Retry the game
NETRANK Button
When you break the highest score, you can send your score to the online
ranking.
Fill in the name you wish to register when sending the score. If there
is a score registered previously, it will be updated to the new one.
You can refer to the top 10 scores on the game screen. Meanwhile, you
can refer to the top 100 scores on the website.
link
copyright (C) TukikumaGame for iPhone